Korona Wadokai
Korona Wadokai is a network for people interested in Wadoryu karate.
Our main motivation and is to train and grow in the art of karate, and at the same time have fun and meet nice and interesting people.

We have set the founding date of Korona to August 3, 2011 but the ideas of training in a network rather than in a traditional karate organisation have been around for at least five or six years.
And during the summer of 2011, the time was right to make something concrete out of these ideas and the result is Korona Wadokai.

The Korona Wadokai is also a link to the JKF Wado-Kai and to our friends abroad.

/ Henrik Hansson, Jörgen Johansson, Robin Ohlsson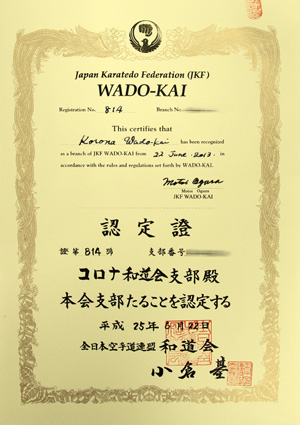 Korona as a branch
The picture shows our Branch Certificate, issued after the Wadokai Executive Committee approved our branch application on June 22, 2013. In a way this is the end of a long journey but it is also the beginning of a new one.
To make a long story short... After a meeting with, among others, Takagi sensei, at the Hungary Wadokai summercamp in 2011 we decided to apply for our own, real Wadokai branch directly under the JKF Wadokai. This turned out to be somewhat complicated as we did not have a proper connection established with the Japanese HQ. But while our application lay dead in the water, we kept on practicing and went all over Europe for training and black belt examinations and in January 2013 it was time to go to Japan. Sensei Nash arranged a week of first class training with some of the Japanese top instructors for us and our new friends from Finland and the US. And we visited the Wadokai Headquarters where we finally could hand in our branch application form, in person, to the HQ staff. The application was subsequently approved on June 22.
I would like to see this as an acknowledgement of the hard work we all put in and as a "proof of quality" of our common strive to do better karate. Everybody in the Korona Wadokai are part of this work but I would like to mention Henrik Hansson, Johan Ossa, Jörgen Linde Johansson and Lotta Keto who all held high dan ranks from Suzuki sensei and the WIKF but without much hesitation have taken all those black belt examinations all over again.
I am sure this dedication and humble attitude have made a very positive impression in Japan.
Also, a massive thank you to sensei Nash who drills us and puts up with our endless questions and weird ideas and to Shimura sensei and Kato sensei at the HQ for all their help with the paperwork.
/Robin Ohlsson, branch manager Korona Wadoka